Blog
Everything You Ever Wanted to Know about Hardware Sentry (But Did Not Dare to Ask)
Based on questions that we are regularly asked, this Q & A article provides exciting and unknown information about Hardware Sentry.
Apr 06, 2023
Isabelle Guitton, Communication Manager
4 min read
What is Hardware Sentry?
Hardware Sentry is a vendor-agnostic solution that monitors the health of physical and virtual disks, controllers, blade servers, SAN switches, tape libraries, network adapters, temperature sensors, etc., in datacenters. The solution also reports power consumption, electricity costs, and CO₂ emissions to support your SRE initiatives.
Who can benefit from Hardware Sentry?
Hardware Sentry is aimed at organizations of all types and sizes equipped with an air-conditioned server room or data center and at service providers if data centers are outsourced. Our solution is not adapted to "Hyper scale" data centers (already highly optimized) as well as small servers (like a room, sometimes not even air-conditioned).
Who can deploy Hardware Sentry?
The IT team managing the data center or server room can deploy Hardware Sentry to collect health and performance data on their IT environment. We leave the choice to the administrators for the storage and display of metrics, provided that the solution natively supports OpenTelemetry. Administrators can, for example, use Prometheus to store the collected metrics and Grafana to display them in comprehensive dashboards.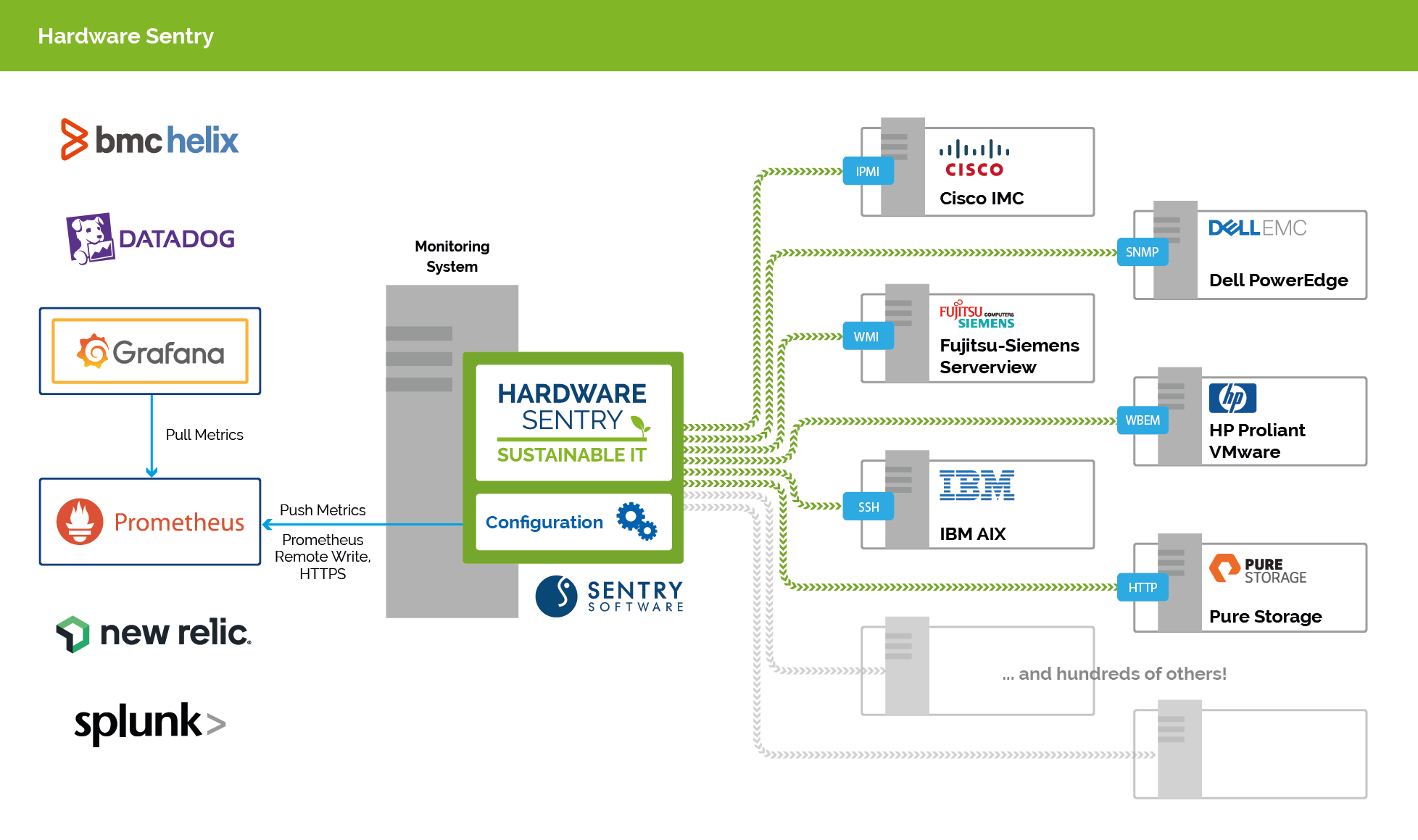 How can Hardware Sentry help in sustainability initiatives?
Hardware Sentry provides data-driven recommendations to optimize the data center's ambient temperature and lower the IT infrastructure's environmental impact.
Most data centers are air-conditioned to maintain a freezing temperature (typically 18°C) to ensure the optimal operation of their hosted servers. Cooling a data center to 18°C typically represents 40% of its total power consumption (considering a PUE between 1.9 and 2), which is enormous! Raising the temperature of a data center by 1°C allows a 5% energy saving (and thus a 5% carbon emission saving).
Hardware Sentry monitors all internal sensors on all servers (as well as network and storage equipment) to determine if increasing the temperature without taking operational risks with the data center equipment is possible. Our solution can determine the optimal temperature for a data center and allow operators to adjust the air conditioning accordingly and reduce the power consumption of the air conditioning and the resulting carbon emissions.
Is Hardware Sentry Green?
As a leading player in IT observability and sustainability, we wanted to offer solutions with the lowest impact possible on our customers' IT infrastructures regarding energy consumption and carbon emissions while guaranteeing full coverage of their environment.
To overcome this challenge, we adopted a green-coding approach, which consists in producing and writing code that minimizes the software's energy consumption and limits its environmental impact. First, our developer teams optimized the software code to perform fewer processor executions and reduce memory usage to guarantee faster response times. We also use the latest energy-efficient technologies to maintain our impact at the lowest while increasing the amount of data processed. Network traffic is also kept at the lowest level for each monitored server, and users can set the data collection frequency to avoid unnecessary resource usage.
How does Sentry Software contribute to a more sustainable IT?
At Sentry Software, we are very engaged in the fight against planned obsolescence; that's why we're paying close attention to offering solutions that can operate on new and older server models. We also closely observe our server room and display our live PUE on our website home page.
Look at our IT observability and sustainability dashboards to see how Hardware Sentry can help you understand and reduce your data center's energy consumption and carbon footprint!
Does Sentry Software use Hardware Sentry in-house?
Sentry Software monitors its server room with Hardware Sentry. You can have a look at our observability and sustainability dashboards on our demo platform, where 99% of our IT infrastructure is covered.
We hope that this post gave you a better understanding of Hardware Sentry. Our experts are at your disposal to answer all your questions. Schedule a call now!